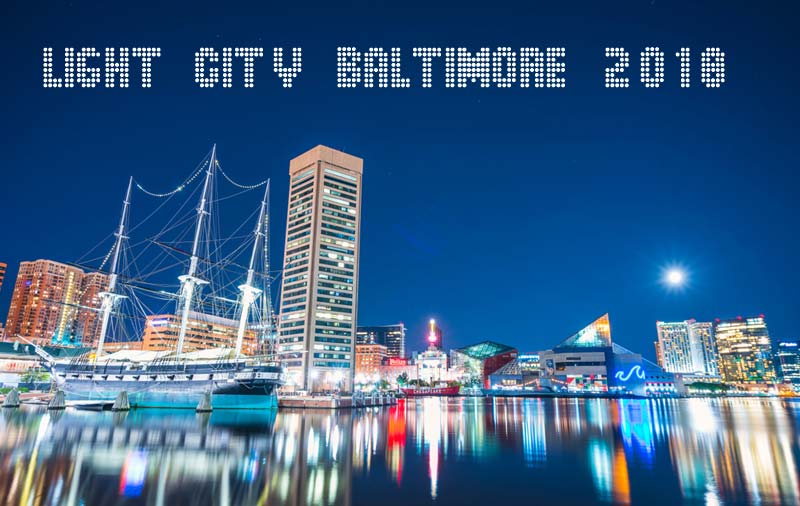 Light City, a free festival of lights, music, and innovation returns to Baltimore in April 2018. This time expanding to three weekends with Neighborhood Lights, a community based light performance. The official activities kick off April 6th and feature highlights such as the BGE Light Art Walk April 14-21, Labs@LightCity April 14-21, and the festival's daytime innovative conferences April 18-21 at the IMET Columbus Center.
Light City was first introduced to the city of Baltimore in 2016, but the Baltimore Office of Promotion & The Arts. It is the largest festival featuring lights, music, and innovation in North America! Many popular tourist destinations such as Baltimore's Inner Harbor, neighborhoods such as Mt. Vernon, Little Italy, and Canton turn into wonderful spectacles at night.
What's new to Light City in 2018?
Eye on Charlie: Presented by WJZ Television Station, Charlie, a 40 feet wide by 30 feet tall LED Light structure, will be appearing throughout the city. Clues on social media will give you an indication as to his whereabouts each night!
Light City Drone Race Course: A light installation, sculpture garden, obstacle course will be new to Light City. It will be the only race course of its kind, and drone league racers throughout the United States will flock to this course throughout the event.
Community Showcase Program: Each community within Baltimore City will have a chance to win $2,018 by creating a light display featuring their neighborhood. Attendees will have a chance to vote for their favorite neighborhood display though the online voting system at Light City's website.
About Nicholas J Del Pizzo - Baltimore's Attorney
A Baltimore lawyer that is an experienced and dedicated attorney who knows that people have legal needs that simply do not coincide with regular business hours. At the Law Offices of Nicholas J Del Pizzo we make ourselves available for our clients when they are facing foreclosure of their home, bankruptcy, personal injury, or medical malpractice. When you have a consultation at our law office, you meet with Nick Del Pizzo, the founder of the firm. Whatever your legal need is, we are there for you, seven days a week. Your case becomes our cause, and we will seek the best resolution possible.